4 drums 18″x60″ batt 72/90/120/120tpi, dual motor
---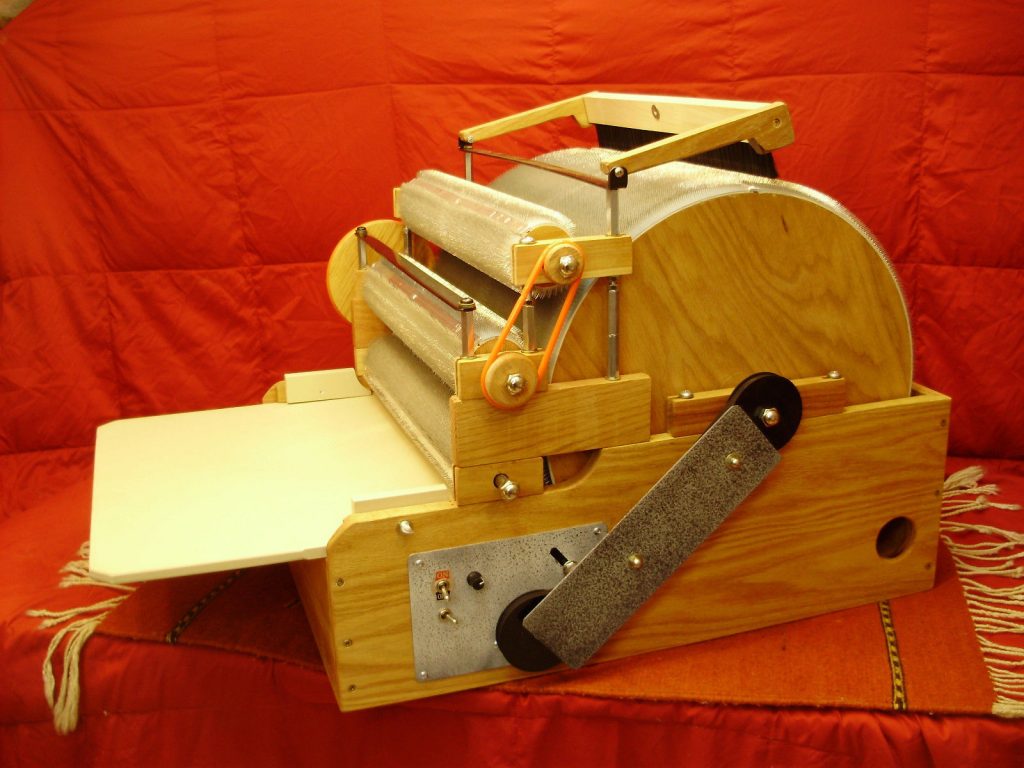 ---
Southern Comfort Products .. The "Pro 60 Series", 18 x 60″ batt, twin speed controlled motors, 4 drums, brush
The Pro 60 Series is new to Southern Comfort Products Drum Carder line, built for those that are interested in quality production; selling their fleece from their flock, processing fiber for others as business, and those that buy raw product and turn into finish product. A great step in increasing value of raw product. No longer waiting years to accumulate enough fiber to meet minimum amounts for some mills, assuring its your finish produce, not someone else of lesser quality an weight. Take look at video on You tube of "60" making 14.5oz batt of two different colors, showing just how well machine cards……
The Pro 60 Series makes thick batt, 18″ wide and 60″ long, yielding over 22 oz. of some fiber in 1 hour. Designed with 4 drums, 3 lickers, 1 swift. All drums turn on sealed ball bearings (no lube needed). Drums are ground to true radius, no Highs-Lows, carding 360 degrees evenly. Nice, large feed tray (removable for cleaning) of Corian, gives space to lay out feed fiber into your own preferences to blend and design. Twin motors run on 110V or 220V power. Infeed licker has its own variable speed control (0-16 RPM), giving low speed control for feeding fiber, or full speed to become added working lickers for carding. Next 2 lickers vary in teeth per inch (TPI) to card fiber and load swift, with fixed ratio, 2 lickers and swift have variable speed (0-46 RPM on Swift), with FWD and REV.switch for ease of removal of finished batt.
Producing a thick BATT loaded gently by "brushing" down carded fiber that some customers like to "brag about". No need to "run carded fiber over and over"yes, "one pass works in most cases."
Look for video of "Pro 60 Series" in operation……on You tube
Carder weight: 65 lbs, 22″ wide, 30″ long, 24″ height with handles on both ends.
SCP has built "60 Pro Series" for production of finished quality fiber for selling or turning into finished products. There is no other carder even close to this carding machine on the marker for the "size", for the "price" ….
Carders sell with 1 year warranty. Can build to your specifications. Typical TPI for "fine" fiber 72/90/120/120, other cloth offered 54/72/90/120/190 TPI.
In stock. Order 2-4 week shipping, custom ordes require longer time
---
Cost – Please Contact Us
S/H, (Note, carder boxed 24x24x32 @ 135#)
---
Special sample offer — Will run 1 lb. of your washed, cleaned fiber, "one pass" at no charge — you pay S/H
Look forward to hearing from you. Southern Comfort Products.com
WE SHIP TO THE WORLD !!
Hope to make you another happy customer of SCP !
---
---


91 Totoro Way, Bunker Hill, WV 25413
Email: hog@netins.net
Phone: (304) 229.2052
---